Have you considered making the shift to a tankless natural gas hot water system? On demand hot water systems have seen a rise in popularity in recent years. Although the upfront investment is greater than a conventional hot water tank, they can potentially save you money in the long run. Here are the top reasons why we've seen homeowners make the switch.
On Demand Hot Water Can Save Energy
On demand water heating systems can save energy and money on bills because you only heat hot water when you need it instead of constantly keeping a tank hot. If you spend a lot of time away from home or take extended vacations, why use energy to keep hot water?
On Demand Heaters Have a Much Longer Lifespan
Did you know that many home insurance policies won't cover a failed hot water tank older than 10 years? Some policies cover as little as 7 years. The Navien on demand systems we install have a life expectancy of 20 years. Some insurance providers even offer a discount for shifting away from a hot water tank. Not having to replace tanks regularly can save both the cost of installation and waste going to a landfill.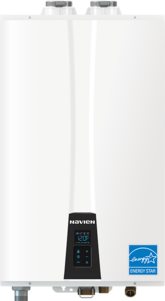 FortisBC Offers Energy Saving Rebates of $1000
High-efficiency natural gas hot water heaters qualify for an energy saving rebate of $1000. Full details and terms are available on the FortisBC website.
Switching From Electric to Natural Gas Qualifies for FortisBC Rebates
If you currently operate an electric hot water tank but are a FortisBC customer for other services, you qualify for the $1000 rebate. Switching from an electric tank to an on demand hot water heater has the potential to significantly reduce your bills. 
Never Run Out of Hot Water
Do you run out of hot water when you have guests? Or do they sometimes get caught taking a cold shower? Making the switch will allow you to skip this juggling act, so you don't have to try and estimate how much hot water you have left in the tank.
Space Savings of Up To 80%
If you live in a smaller home or a condo, space comes at a premium. On demand systems usually save about 80% of the space used by a conventional hot water tank. On demand systems are also wall mounted, saving valuable floor space. For condo owners using storage lockers, this can instantly save a monthly expense.
Free Up Space on Your Electrical Panel
If you're wanting to add an additional appliance to your home, you can free up a portion of your home's electrical capacity by switching from an electric hot water tank to a tankless natural gas system.
Interested in learning more about an on demand hot water heater? Contact us for a free estimate.
Interested in financing? Find out financing details and prequalify here in 5 minutes.